If you're always looking for the next adventure, these holiday destinations in Australia have to go on your bucket list!
Australia is a country of wild beauty, top-tier cities, heart-thumping adventures and exciting activities – the land of Oz always manages to entertain and pull travelers all over the world, especially those looking for the thrill of a lifetime.
Australian cities are situated along the coast, which means that there's endless opportunities and adventures to be had.
Here, the sand, relaxed lifestyle and great beaches are equally popular destinations for adventure lovers.
If you're someone who craves the thrill of extreme activities, then Australia is the country to be at. Here are a couple of adrenaline-driven destinations in Australia:
Holiday Destinations in Australia – Bucket List For Adrenaline Junkies:
Skydiving in Cairns
With a variety of beaches to soar over and pleasant weather conditions to relish, skydiving adventure in Cairns is always an exhilarating experience.
If you've had enough of basic thrill activities such as bungee jumping, then perhaps throwing yourself from around 18000 feet might take you to the next level.
There are a lot of locations to dive in Australia but do check out the views offered by Byron Bay since it's top-rated. Plus, you always have the picturesque city of Cairns to explore!
Mission Beach White Water Rafting
As one of the most popular gateways to the Great Barrier Reef, Mission Beach belongs to the best destinations in Australia for breathtaking adventures.
Mission Beach is a quiet beachfront town where you find 14 kilometers of golden sand beaches, two UNESCO World Heritage Sites as well as thrilling adventure activities.
The Tully is one of the best attractions at Mission Beach where you can go for snorkeling, swimming and scuba diving. However, the place is most famous because of its white-water rafting activities.
Mission Beach is also where you can find numerous wildlife species such as the endangered cassowary. Furthermore, much of the area's wildlife are seen in or around the Tully River.
Swimming with whale sharks in Exmouth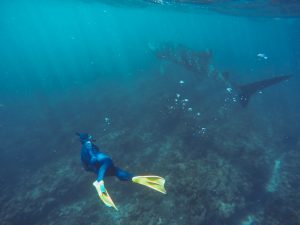 Contribution from Luke & Roxy from "The Coastal Campaign"
You can find them on Instagram as well: @thecoastalcampaign
Located on the west coast of Australia, the beach town of Exmouth is one of the best destinations in Australia for experiencing the rush of swimming side by side with the largest fish in the sea.
Between March and July every year, Exmouth and the surrounding Ningaloo Reef become home to these gentle giants that can grow over 8 meters in length.
Although incredibly docile animals, the sheer size of these sharks makes for a mind-blowing experience. Numerous boat tour companies depart daily from Exmouth, providing the opportunity to free dive with the whale sharks and the reef's other inhabitants.
I didn't think that this would be quite so thrilling but there was something very special about sharing the ocean with such a large animal.
The adrenaline was pulsing through my veins as I swam alongside the whale sharks. The surrounding white beaches, brilliant blue water and coral reefs also make this a stunning destination to enjoy these animals in their natural habitat.
Hiking Mt. Anne in Tasmania
Contribution from Yana from "Beard And Curly". Check out her Tasmania Guide.
You can find her on Instagram as well: @Beard_And_Curly
One of the most difficult and exhilarating hikes in Australia is Mt Anne. It is located in Southwest National Park in Tasmania.
Summiting Mount Anne is a difficult endeavor. It includes scaling the mountain with no clear route and sheer drop-offs. Views of Mount Lot and the Lightning Ridge are spectacular.
This hike can be done in a day for very fit people but would take roughly 10 hours. To get a real adrenaline rush, it is best to complete the 3-day Mount Anne Circuit. This is not for the faint-hearted.
The circuit includes a challenging section called The Notch, a narrow passage on the exposed ridgeline that requires the use of ropes and sturdy hands. But that's not all.
The last day includes walking through waist-deep mud pits and skin-ripping thorn bushes. I have never said more expletives in my life.
Although this is one of the most mentally and physically challenging hikes I have ever been on, it was definitely worth the effort.
Crocodile River Cruise at Port Douglas
Head over to Port Douglas to experience a thrilling crocodile river cruise along the beautiful Daintree River.
You will pass crocodiles lazing on the bank, bathing in the sunshine, daring you to head over to them.
Often, guides will throw meats so that visitors can see them jump out of the water to experience one of the greatest adrenaline rushes of their lives.
Yarra Valley Balloon Flight at Sunrise
This location is renowned for its remarkable vineyards and many wineries. 35 wineries and 90 vineyards are in Yarra Valley and it boasts of producing some of the best-tasting wines on the planet.
You can explore all that natural beauty of Yarra Valley on a hot air balloon. You'll find a plethora of adventures here, plus waking up early and watching the sunrise while up there on a hot air balloon makes for a thrilling and a one-of-a-kind experience.
The adventures in this list make up some of the best holiday destinations in Australia for adventures and adrenaline kicks that will make your itineraries feel more thrilling. 
Indeed, anyone looking for a real adrenaline-driven challenge won't get it better anywhere else.
---
Pin "Holiday Destinations in Australia For Adrenaline Junkies" for later: