Back in 2015, I was living in Santa Cruz, CA for a couple months. Thanks to its proximity to San Francisco, I often made my way up to the city to meet a friend of mine who is a passionate photographer.
He grew up in the area and knows the best San Francisco night photography spots which I'd like to share with you here.
It was actually my first time doing long exposure shots back then, so the quality of my photos is not as good as it is now.
Nevertheless, the locations I'm listing here still provide the same, amazing views on San Francisco's most iconic places and your photos will probably look much better than mine!
I've included the GPS coordinates so you'll have an easy time looking up the exact locations on Google Maps.
5 Best San Francisco Night Photography Spots (according to my local friend and myself):
1. Pier 14 – Bay Bridge
I know, you're wondering why I start with this bridge instead of the Golden Gate Bridge. It's simple.
When it comes to night photography and long exposure shots, the Bay Bridge is just way more photogenic than Golden Gate Bridge because of its many twinkling lights and the cool pilings that stick out of the water on the mainland site.
It's probably one of the most popular places for San Francisco night photography and you will likely meet a few other photographers here.
Why don't you strike up a conversation and find out about their favorite spots, many of them are local photographers!
You can really get creative here and play with different angles – walk along the pier, cross the street – whatever inspires you.
2. Palace of Fine Arts Theatre
The Palace of Fine Arts offers so many amazing photo opportunities, not just for long exposures.
Walk around the area and capture reflections in the water, then get closer and go inside to admire the stunning architecture.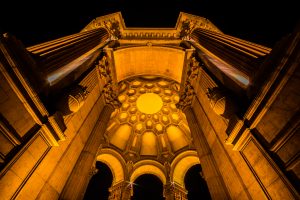 Sometimes there are even a bunch of roller skaters, if you get lucky you can use their illuminated skates for light trails.
3. Treasure Island – Bay Bridge
From Treasure Island, you get a fantastic view of San Francisco's stunning Skyline including the Bay bridge.
That's one of the things I like about major US cities (not just when it comes to photography) – a lot of them have islands and rivers that separate the city, like NYC and Miami, which makes for some incredible views.
If you explore the island a little bit, you'll discover more and more photo opportunities, like the marina with dozens of cute little boats docked.
And here we have another beautiful bridge shot:
4. Golden Gate Bridge
How could I not include the most iconic bridge in California, if not the entire US.
I'd suggest you take your shots during sunset though, as the bridge is not very well lit and therefore not ideal for late night shoots. If you're doing a San Francisco night photography tour, it'd be ideal to start here and then move to the other places on the list.
Sunsets shots are always better with a river or ocean in them, don't you agree?
This photo was taken at Baker Beach. Another popular angle is from Fort Point:
5. Legion of Honor
The Legion of Honor is an impressive building worth every shot! I suggest you take some photos outside capturing the reflections in the water.
There are also buses driving around which you could use to add some extra movement into your photographs – just catch their light trails.
I hope you're having an amazing time in San Francisco and would love to see your best photos and more beautiful locations for night photography in the city!
---
Pin "The 5 Best San Francisco Night Photography Spots" for later:
---
If you're into traveling and photography, you're gonna love Istanbul!
I have a very detailed photography guide that covers the most amazing photography spots in Istanbul in one day!