"My biggest goal in life is to see all countries in this world!"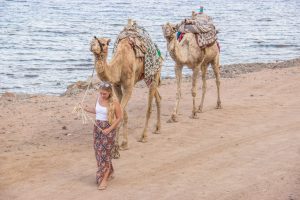 Hi fellow traveler!
My name is Christina and I'm a 30 y/o long-term solo female traveler from Germany. I'm a Content Marketing Specialist currently staying in Dahab, Egypt.
A Little Nomad wants to be a source of information & inspiration for every woman (and man!) who wants to travel more, better, cheaper and safer!
If you have a passion for traveling the world and want to know how to do it in an exciting, safe and cheap way – this blog is for you!
As a perpetual traveler who has been to 60 countries, I know the tips & tricks of making the most out of every single trip.
A Little Nomad – My story
You really want to know more about me and my story? Grab a cup of coffee – here's the long version:
My parents probably planted the nomad-seed in me, as they were always traveling quite a lot with my sister and me, although we didn't have a lot of money.
Also, I'm a Sagittarius – born to be on the road 😉
When I was 16, my Dad used his hard-earned miles (unfortunately it's MUCH harder to collect miles in Germany as it is in the States) to buy a ticket to South Africa for me.
That was my first big trip alone.
I was staying with friends of my Dad's and did voluntary work in the townships of Pietermaritzburg near Durban for a month.
My heart has always been beating for Africa and since then I wanted to open an orphanage someday, somewhere in Africa.
After finishing school, I moved to Dresden to study International Project Management.
My next big trip was to Uganda, working in an orphanage and school for blind children for 3 months.
That really brought me back to earth and made me change my mind about my orphanage dream because I didn't appreciate the way of expecting money from foreigners without putting much effort into changing their own lives, and how the whole idea of volunteering is one of the reasons it's become like that.
Back in Germany I moved to Koblenz and studied Marketing & International Business.
I did my semester abroad in Southeast Asia, working in the Marketing department of a Solar Energy Company in Bandung, Java and then traveled the continent for 6 months, falling in love especially with Bali.
I discovered my passion for photography.
After I finished my Bachelor's degree in Marketing & International Business, I moved to California.
I didn't have a job, just wanted to leave Germany and thought I would figure something out. I stumbled upon elance.com (now upwork.com), a freelancing platform, which worked really well for me because my native language is German and I'm fluent in English, so there is no competition from India etc.
Since then I'm freelancing, everything from Photography, Writing, SEO and Social Media Marketing. I rarely work on Upwork these days, but every once in a while there's still an interesting job posting.
I also focus on writing and SEO now instead of doing too many different things.
I traveled the States, Central America, the Caribbean, and South America for a year and came back to Germany to live in Cologne for the next year (yep, love makes you do crazy things, like spending an entire winter in Germany!).
Long story short, the relationship ended in a complete nightmare and since the summer of 2016 I am traveling again, mostly in the Middle East for now, as I decided to stay in Dahab, Egypt for a while.
This is now my home base and I travel every two months or so, but it feels good not living out of a suitcase all the time.
What's up next?
Who knows!
But I'll make sure you'll be the first to know 🙂
Follow me on my journey to see all countries on earth and learn and get inspired on the way!
My personal world map
Countries I've lived in for more than 3 months (6):
Germany (Weener (I know, haha), Dresden, Koblenz, Cologne)
Uganda (Mukono)
Indonesia (Bandung/Java & Bali)
USA (California, Santa Cruz)
Egypt (Dahab)
United Kingdom (London)
Countries I've traveled to (60):
Africa: South Africa, Uganda, Rwanda, Tanzania, Kenya, Morocco
Middle East: Israel, Palestine, Jordan, Turkey, Egypt
Asia: Sri Lanka, Indonesia, Singapore, Malaysia, Thailand, Laos, Cambodia, Myanmar, India
North & South America: Mexico, Guatemala, Dominican Republic, Haiti, Bahamas, Brazil, Argentina, Uruguay, USA (California, Nevada, Florida, New York, Pennsylvania)
Europe: Germany, Montenegro, Albania, North Macedonia, Slovakia, Denmark, Netherlands, Belgium, Luxemburg, Liechtenstein, France, England, Ireland, Spain, Portugal (Madeira), Italy, Vatican, Switzerland, Austria, Croatia, Serbia, Bulgaria, Rumania, Greece, Hungary, Czech Republic, Poland, Lithuania, Latvia, Sweden, Wales
My photography equipment:
Seeing so many places, photography became more and more important to me because I wanted to capture and share the beauty I was so lucky to see.
I got my first DSLR, a Sony Alpha 37, upgraded to a Sony Alpha 57 after a while and am now capturing moments with the Sony Alpha 77 and three different lenses (50mm, 10-20mm, and 18-270mm).
Besides that, I have a GoPro, a Ricoh Theta SC (360° camera) as well as a scuba diving underwater housing for my Samsung Galaxy S9.