This is not just another list of things to do in Egypt, because you already know that the pyramids etc. are reasons to visit Egypt.
Instead, I'm trying to capture the essence of Egypt: what makes this country special, the reasons I love it and what you're missing out on if you believe the media and let fear get in the way of your once-in-a-lifetime trip to Egypt.
The Top 10 Reasons To Visit Egypt:
1. Safety
This might come as a surprise, but believe it or not, Egypt is a safe country. There is a small part in North Sinai that is troubled, but it doesn't affect the rest of Egypt at all. So forget about terrorism, you won't see any.
Obviously, the country is not completely free of crime, you should be aware of pickpockets, but not more than in any other major city (Cairo is the second-biggest city in all of Africa, so there are definitely some crooks!).
Compared to US cities though, the crime rates are much lower here.
I myself (solo female traveler) have been living alone in Egypt for 2 years now and I feel much safer than in Cologne, where I used to live last time I was in Germany.
I even got my credit card back the same day when I lost it in Dahab once.
2. The Locals
The Middle Eastern or Arabic countries are very well-known for their hospitality and Egypt is no exception.
Egyptians love their country passionately and will do everything they can to make you feel welcome. You might get a different impression when you only visit the pyramids or airport e.g., because at these popular tourist spots they will give you a hard time.
Go anywhere else in Egypt though and you will meet some of the kindest people in the world who will always have a cup of tea for you.
The locals are definitely one of the best reasons to visit Egypt.
3. The Cheap Prices
The Egyptian Pound was devalued end of 2016 and since then Egypt is one of the cheapest tourist destinations worldwide.
For just $25 you can e.g. get a room at a really nice resort in Dahab like in the photo above. Street food starts at less than $1, a bus ride from Cairo to Sharm El-Sheikh costs around $6.
A day trip to see some incredible canyons and an oasis in Sinai will only set you back around $30. You get the picture.
It has become cheaper than most Southeast Asia destinations like Thailand or Bali, so it's a great reason to visit Egypt even if you're on a budget.
4. The Weather
If you're one of those people who is not a big fan of cold weather (like me), Egypt is your country! It usually doesn't get below 20°C, even in winter.
You might say that's the case in Southeast Asia as well, but for several months a year, you'll have monsoon season over there. In Egypt, it almost never rains!
That's why you can visit Egypt all year long and never have to be afraid to lose your valuable vacation days because of bad weather.
Ok, it does get pretty hot in July and August, so during that time, you might want to skip Cairo and head only to the Red Sea to spend your days beach-bumming and swimming!
5. The Diversity
Egypt is one of the most diverse countries you will ever visit. Whatever type of holiday person you are, there's something for everyone.
Nature lovers will enjoy camel a camel trek or hike in one of the various deserts in Egypt. The rich Red Sea underwater world makes scuba divers and snorkelers happy, windy days allow wind and kite surfers to practice their skills.
Obviously, history fanatics will have the trip of their life with so much ancient history in Egypt – pyramids, temples and Mount Sinai, where Moses received the Ten Commandments.
The women can spend hours shopping at one of the many colorful bazaars Egypt has to offer, while the men enjoy Turkish and Shisha over a chat with the locals. I will go into more detail in the next reasons.
6. Your bucket list will be empty!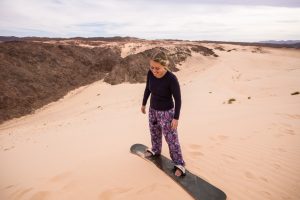 Thanks to the already mentioned diversity and cheap prices, one of the best reasons to visit Egypt is that you can cross so many things off your bucket list that you'll have to sit down to come up with more stuff – seriously.
You can visit the pyramids and take a selfie with the Sphinx, go on a Nile cruise, camel trek in the desert, scuba dive the Red Sea, learn to kitesurf, go sandboarding, drive a quad in the mountains, hike amazing canyons, visit colorful bazaars, drink tea with Bedouins in an oasis, freedive the Blue Hole, you name it.
Must I say more?
7. The Beaches
Egypt has some of the most amazing beaches in the world and the best thing is that most of them are almost empty.
Whether you're into all-inclusive resort life (Marsa Alam) or prefer laid-back, simple huts in Sinai, there's something for everyone.
Besides the popular tourist areas of Hurghada and Sharm El-Sheikh, you can also avoid the crowds and go to some secret beaches that almost nobody ever heard of.
8. The History
Ok, this is one of the obvious reasons to visit Egypt, but it can't be left out. Discover the majesty and incredible stories of ancient Egypt at the pyramids, museums and countless temples all over Egypt.
If you want to skip forward in history a few centuries, you can walk in Mose's footsteps, climb Mount Sinai and visit St. Catherine monastery, one of the oldest libraries in the world that just reopened to the public and holds the second largest collection of early codices and manuscripts, only outnumbered by the Vatican Library.
9. The Underwater World
If that wasn't enough already, Egypt has an entirely different world to offer underwater.
The coral reefs are some of the best-kept reefs in the world and marine life is abundant despite dying corals all over the world.
Whether you're a scuba diver, freediver or just a snorkeler, you will be swept off your feet by the underwater world.
Marsa Alam is a great destination if you want to see dolphins, turtles, sharks and the very rare dugong.
In Sharm El-Sheikh you can dive one of the biggest wrecks in the world – the SS Thistlegorm.
The famous >100 meter deep Blue Hole in Dahab is another bucket list item for scuba and freedivers to tick off.
For ocean (or sea) lovers, the Red Sea alone is a perfect reason to visit Egypt. You might even want to go on your first liveaboard as it's much cheaper than in other parts of the world and you'll dive some of the best dive sites worldwide.
10. The Food
Last but not least, for most people food plays a big role in really experiencing a new country.
Meat lovers and vegetarians alike will surely enjoy the local cuisine, at least if they're into fried or sweet dishes. It's not a great cuisine for weight loss, but you're only here once, right?
Unless you fall in love with the country and end up never leaving like I did 😉 Anyways, here are the most important traditional Egyptian dishes everyone should try! 13 more reasons to visit Egypt 😉
---
PIN "10 Reasons To Visit Egypt" for later:
---
If you're traveling to Egypt, be sure you make the most of your trip by reading my other articles. I've been based here since 2016 and learned a lot that will help you 🙂