Are you thinking about going on your first liveaboard diving trip or have you booked one already? Congratulations!
To make sure you have a fantastic experience, I've put together a few things you should know before embarking on your first safari diving adventure!
Should you book a liveaboard or dive from land?
If you're a beginner to diving and you've only recently completed your Open Water course, a dive safari might not be the best choice for you.
Many liveaboards require an Advanced Open Water certification and a certain number of dives, usually ranging from 25-50.
Diving in open water comes with its own challenges and often strong currents, which can be a bit overwhelming if you've just started scuba diving.
Reminder: Don't forget to bring your log book on your first scuba diving safari.
Do you feel comfortable diving already? Then a liveaboard might be a once-in-a-lifetime experience. The main advantage of liveaboard diving is that you can reach more remote and therefore less visited dive sites that boast rich marine life which often can't be compared to spots close to the shore.
But there's also the amazing feeling of being on the sea day and night. You won't have a care in the world and you'll feel free like a bird.
In addition to that, most of the time there is a strong sense of community on board and you easily make new friends and dive buddies for life.
13 Tips for a great first liveaboard diving experience:
1. Pack light!
Space on a boat is very limited, so expect your cabin to be really small. You won't need any shoes as soon as you hop on board, and towels are usually provided.
Bring travel-sized toiletries and travel with a backpack instead of a suitcase, or anything that can easily be folded away and not take up unnecessary space.
2. Bring motion sickness pills!
Especially if you're prone to sea (and/or car) sickness, these are absolutely essential. Even when you're usually not too much affected by waves, being on open water for several days is a completely different story and you never know how the weather will turn out.
Often, the organizers will provide this type of medicine, but you rather want to be safe than sorry, right?!
3. Act environmentally responsive!
Spend a little bit of extra money on reef-friendly shampoo, body wash, and sunscreen – it's worth it. After you use the toilet, clean yourself with the douche-house next to it.
Since the wastewater is expelled into the sea, it's important you put toilet paper into the bin and don't flush it.
4. Don't forget to tip!
On every liveaboard, there is quite a big crew whose only job it is to make your dive safari a great experience – dive guides, captain, chef and many more.
Their work is physically challenging and involves very long hours, so a tip is customary. You can use a rough guideline of 10% of the cost of your liveaboard.
5. Consider diving with enriched air!
Since you'll be spending a lot of time underwater, upgrading to Enriched Air Diving (Nitrox) may be very beneficial.
It will extend your allowable bottom time and no-decompression limits over repetitive dives and generally makes you feel less tired than diving with regular air.
Often, you will have the opportunity to do the nitrox certification on board, it's a quick and easy half-day dry course. Make sure you ask before!
6. Be prepared for weather changes!
It often gets pretty hot during the day (depending on where you're diving of course) and the ocean's reflections intensify UV rays, so you want to bring enough (reef-friendly!) sunscreen.
Once the sun sets though, temperatures drop and sometimes winds can pick up. Bring at least one warm sweater for chilly nights.
7. Remember no-flight times!
If you book your liveaboard and your flight separately, make sure you don't forget to plan for a no-dive-time/surface interval of at least 18 hours.
8. Be considerate!
You're sharing a small space with a lot of people and you all depend on each other. Treat your dive buddies with respect. Don't be late for dive briefings (just as meals, they're usually announced by ringing a bell).
9. Bring spare equipment!
Not only is there no dive shop where you could get replacements for any missing or broken gear, there are also usually only one or two power outlets per cabin.
You want to make sure to bring as many extra batteries you can for your cameras, dive torch, phone and any other electrical devices.
10. Wash your equipment in the end only!
There is very limited freshwater supply on a liveaboard, so don't wash all your dive equipment after each dive, as you might have been used to doing before.
The only exception is sensitive equipment like your dive computer or your camera, there's usually a dedicated tank for those.
11. Get up early!
It's usually worth it not to sleep in because sunrise dives offer amazing marine sightings and photo shots.
Preferences under divers vary – some love to party, others come for maximum diving possibilities.
Since safari diving is often a once-in-a-lifetime experience because it's on the pricier side of hobbies, I usually recommend to make the most of your dive time and don't waste energy on drinking and hangovers.
12. Freshen up your skills!
If you haven't dived in a while, don't worry. There will always be a check dive for everyone.
It may be useful though to refresh or learn some new skills before your liveaboard diving trip. Practicing entries and exits for large boats and small RIBs/zodiacs could be one of those.
13. Plan in some downtime after the safari!
Living on a boat for a couple of days messes with your brain's balance system, so it's normal to feel like you're still moving once you're back on solid ground. It's quite intense and makes some activities pretty hard.
After my first liveaboard trip, it lasted the same amount of days that I was on the liveaboard itself (4 days) and it was really difficult for me to get any work done (I work online) during this time because I felt so dizzy.
After the second one (7 days) it only took like 2 days to recover.
Where can you book liveaboard diving?
Besides looking up individual liveaboard safaris in the destination you're wishing to dive in, you may also have a look at a site such as divebooker.com.
If you're flexible and spontaneous, you might get a really good last-minute deal if the operator is trying to fill the last remaining spots.
My first liveaboard in Egypt only cost me 300€ for four days for that reason, including full board and unlimited dives.
Do you need dive insurance for safari diving?
Check with your operator if dive insurance is obligatory or not. Even if it isn't, it makes sense to get one for the duration of your liveaboard.
Divebooker.com, for example, offers free DAN insurance with their trips. Travel insurance is required for liveaboards.
Again, better safe than sorry!
Diving isn't necessarily a dangerous sport, but it does come with some risks. Additionally, travel insurance is often required on boat safaris.
What does a liveaboard boat look like?
Every boat is different, of course. This is an example of a liveaboard in the Red Sea in Egypt, my first safari diving experience:
On my Instagram a.litte.nomad you can watch my whole boat trip live – look out for "Liveaboard Sharm" in my Highlight stories!
If you're interested in diving in Egypt, check out my scuba guide for Dahab, Sharm El-Sheikh Dive Guide and some of the things to do in Hurghada that are also dive-related!
I've been living and diving in Egypt since 2006, so I know the Red Sea pretty well!
---
Liveaboard Diving Guide For First-Timers: Pin it for later!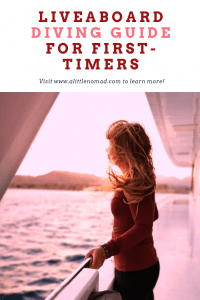 ---
If you're a scuba diver, these articles of mine might be interesting for you as well: