Have you ever wanted to go to Zurich but hesitated because you thought you can't afford it? I hear you!
The beautiful Swiss city is constantly in the Top 3 of the most expensive cities in the world. This doesn't mean you can't travel Zurich on a budget though. In fact, I found 17 Free Things To Do in Zurich.
I promise you will find an activity you love – whether you're traveling solo, with friends or as a family with kids.
Of course, strolls through the Old Town, Bahnhofstrasse and Lake Zurich are for free as well, but that's obvious, so I didn't include them.
There are a lot of great hikes around Zurich though if you're an outdoor lover. But that's a whole different topic, so for this post I instead added 5 Extra Tips that will help you travel Zurich on a budget and make the most out of your visit.
I also have a list of 40 Fantastic Things To Do In Zurich that you can add to your travel itinerary. But now, let's jump in and see what Zurich has to offer for free!
Here you can download a short pdf-version of this guide for free as well – for your phone or to print and take on your trip!
This post may contain affiliate links at no extra cost to you.
1. Rent a Bike For Free!
Yes, bicycles really are for free in Zurich, thanks to the initiative "Züri rollt".
You can pick up a "Gratis Velo" at two different stations ("Swiss National Museum" and "Postbrücke") all year round and from even more stations in summer.
Just download the free app to check live availability and rental locations. Reservations are not possible. All you need to do to rent a bicycle in Zurich is to leave a deposit of 20 CHF.
This is definitely one of my favorite free things to do in Zurich!
2. The view from Polyterasse
Polyterasse is a platform in front of Zurich university from where you will have stunning views over Zurich's old town.
It's the perfect spot for relaxing and people watching on a sunny afternoon since it's visited by over 30,000 workers and students daily.
The Polybahn, a cute old tram, takes you up from the city center (next to the main station) to the panorama terrace in only three minutes for free. No need to spend any money!
Update: You will need a public transportation ticket now for CHF 1.20, so it's actually not free, but very cheap.
3. Uetliberg
From Zurich's most central mountain you have incredible panoramic views over the city, Lake Zurich, Limmat Valley and on a clear day even the Alps.
It is especially popular in November, as the summit of this mountain (2,850 feet above sea level) is above the cloud of fog that covers the city of Zurich on many winter days.
In summer, you can hike or mountain-bike well-marked routes. In winter, these turn into sledding runs. Even more fascinating is the Planet Trail that takes you on a two-hour tour through a model of the solar system.
Everything on Uetliberg is for free and you can reach it via public transport. More info here.

4. Zoological Museum Zurich
Go on a free journey into the Animal Kingdom! The museum is home to 1,500 animals, so you can imagine how much there is to explore.
Examining insects under magnifying glasses, hearing singing whales and touching the fur of some wild animal species.
This museum is open every day of the week and often features special exhibitions, you'll find more information here.
An awesome thing to do for free in Zurich, especially with kids!
5. MyClimate Audio Adventure Zurich
Go on an interactive listening tour around Zurich for free and learn about climate change in an entertaining way.
You can choose between three different stories in English and German, depending on your age (starting from age 5 up to adult listeners).
It takes about 2-2 ½ hours and you can choose to walk or do parts of the tour by public transport or Zurich's free bikes.
Just go to the Tourist Information at Zurich main train station and leave a valid ID to get the audio equipment or download the audio data to your smartphone.
6. River Pools
One thing very typical and unique to Zurich is the river pools. In summer, you don't just go to an outdoor pool or a lake to enjoy a refreshing jump in the water.
Nope! In Zurich, pools are built into the river Limmat. The water is very clear, unlike in most other rivers.
Depending on the weather, Zurich's river pools are usually open between May and September.
There are many "Badis", but if you're on a budget you have the choice between a few different free outdoor pools in Zurich center:
Lower Letten River Pool – This one is for adventurous swimmers, as you can jump into the fast current, get carried away and then walk back to do it all over again.
Upper Letten River Pool – This pool is famous for its 400m long swimming canal and a 2m high diving board. You can play volleyball, boule or read a book from the book boxes provided by the Bühl foundation.
Schanzengraben River Pool – This pool in the middle of Zurich is only for men. It's been open since 1864 and secluded by remains of the old Zurich city wall. In the evening, Riminibar opens for both men and women.
7. Langenberg Wildlife Park Zurich
Enjoy an afternoon in nature, surrounded by wild animals. You will see many animals from Switzerland in their natural environment, like deer, brown bears, wolves and elks.
The park is just outside of Zurich and open all year round, no entrance fee required. For more info, click here. 
If you're traveling around Europe and want to save some money, I also have lists of free things to do in London, Berlin and Amsterdam.
8. Botanical Garden of the University of Zurich
Spend a day surrounded by nature. Naturally, the best time to visit a botanical garden is in spring, as all flowers come to life and blossom during this time of year.
Around 9,000 different plant species welcome you, spread over an area of 53,000 m².
Even during winter or on a bad weather day though you can easily spend half a day at the Botanical Garden in Zurich – the tropical greenhouses are always worth a visit, especially because they are completely free.
This Botanical Garden of the University of Zurich is open all year round, every day of the week. For the exact opening hours, check their website.
9. FCZ – Zurich's Football Club Museum
For the male share of my readers, this will probably be more interesting than gardens and flowers 😉
You will learn everything about Zurich's Football Club since its beginnings in 1896 and about soccer in general – another one of the great free things to do in Zurich!
There are seven themed zones that will keep you entertained for a few hours while your wives or girlfriends check out Botanical Gardens and Succulent Collections 😉
It is closed on Sundays. Sorry guys, bad luck for you!
10. focusTerra Museum of Earth Sciences
Go on an ecological exhibition from the center of the earth all the way to the tops of the Alps.
Many scientific explanations about the earth are being provided in an entertaining way. Recent topics and environmental issues are addressed as well.
The most fun part though is the earthquake simulator. Except for Saturdays, you can enjoy the mix of science and entertainment every day as a completely free thing to do in Zurich.
11. Archaeological Collection
Discover original work of arts from ancient populations all over the world. The collection was founded 150 years ago and it's one of Switzerland's most important art collections.
It is open every day except on Mondays and you don't have to pay a single $ to get in. Now that's what I call awesomeness!
For more info, visit the website.
12. Zurich Succulent Collection
Visit one of the largest collections of succulents worldwide for free. Founded 1931, the area is now home to 6,500 species from more than 70 different families.
You will find seven greenhouses and cold frames as well as an outside area, so if you're a plant lover on a budget, this is your go-to spot.
Open every day from 9am to 4:30pm. 

13. Paleontological Museum
See 230-240 million-year-old fossils with your own eyes at this worldwide unique collection in Zurich for free.
Virtual exhibitions, models and color illustrations make sure you'll have an entertaining day if you are interested in these things.
Open daily, except for Mondays. More info here.
14. Belvoir Park
Enjoy a long stroll through this historic and peaceful park without spending a $.
Surely you will be able to shake off your everyday stress in this amazingly beautiful environment – large meadows, benches, big pools, and a pergola guarantee that.
And if that's not enough, you will have terrific views of Lake Zurich, the city and even the surrounding mountains.
15. Rieter Park
Beam yourself into the glamor of the 19th century in Zurich's biggest park. With over 72,000m², this impressive landscape garden offers endless views on the Glarus Alps on a clear day.
There's also a villa in Rieter Park, built in 1855, for which the entrance is free with the Zurich Card.
For all budget travelers, the park will be an amazing destination even without going inside, one of my favorite free things to do in Zurich.
16. Zurich Aviary and Bird Sanctuary
Admire a wide range of exotic and local birds that have been rescued at this sanctuary since 1898.
Up to now, this initiative has helped 2,600 injured birds and even provides a "guesthouse" for birds, whose owners go on vacation.
The outdoor aviary is for free and open all year, the indoor enclosure closes on Mondays. 
17. "Brockenstuben"
Brockenstuben are Thrift Stores where you can get all kinds of weird, old and funny curiosities, trinkets etc.
These traditional stores go all the way back to the 19th century. You should visit at least one of them and bring home a souvenir that will always remind you of your time in Zurich.
---
Extra Tips & Cheap Things To Do In Zurich:
1. Don't get a Zurich travel pass.
It depends on what you want to do, but if it's not raining and you don't intend to visit ALL museums, you don't really need one.
A 24-hour pass costs 24 CHF, a 72-hour pass will set you back 48 CHF. The train ride from the airport to Zurich HB, the main train station, costs about 6 CHF.
Zurich is pretty small, so on a nice day you will be able to walk to most of the places worth visiting. If walking isn't for you, you can use the free bikes.
2. Zurich is a Free Wi-Fi zone.
Just sign up with your (international) phone number and you'll get a code that serves as your password.
There are free Wi-Fi networks everywhere in the city centre and Old Town of Zurich.
3. Free high-quality drinking water is for free.
You will find 1,200 fountains in Zurich so there's no way you can dehydrate. Bring an empty bottle and just refill it with clean, fresh water every time you see one of these fountains.
You can use this strategy everywhere in Europe and North America because the tap water is usually clean. I always bring a bottle to the airport, empty it before security check and refill it in a restroom before boarding.
That way you don't have to spend 3 CHF on a small bottle of water.
4. Go up the "Großmünster".
Enjoy the best view on Zurich from this ancient church. It does cost 4 CHF, so it's not free, but it really is worth the money.
The 187 steps lead you to 4 separate platforms in 50m height, overlooking the beautiful city of Zurich, the river Limmat and Lake Zurich.
You can take amazing photos from up there, it is right in the city center so all the beautiful old church towers and bridges are right beneath you, unlike the view from Polyterasse, which is amazing too, but much further.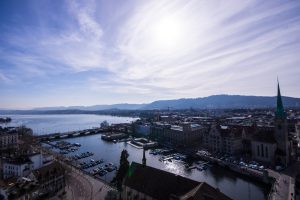 5. Party like the Swiss do!
Especially in summer, there are several fun events that you could join. Here are some of the most popular ones:
Street Parade Zurich – Ever since the Love Parade ended in 2010, this colorful techno and house parade is the most attended one in Europe. A 2.4km long route and around 100 parties spread over the weekend make sure you won't get any sleep but tons of fun! Next date is August 10th, 2019.
Zuri Fest– A funfair or folk festival that brings millions of people to Zurich every year and shuts down the entire city center – no more cars and buses around the river Limmat. This year it will take place from July 5th to 7th with fireworks on Friday and Saturday night, so if you're lucky enough to be in Switzerland during this weekend, you absolutely need to go!
Zurich Pride Festival – Up to 3,000 people join this three-day program with bars and food stands, concerts, shows, parties, conferences, and a parade through Zurich city every year. Next dates: June 15th – 16th, 2019
Did you find this guide helpful? Here you can download a short pdf-version for your next trip, so you can save it on your phone or print it.
If you're traveling around Switzerland, these other articles of mine will be helpful for you as well:
For more information about traveling and/or hiking in Switzerland, these guidebooks are very useful:
---
If you're traveling Europe on a budget, you might also want to check out my lists of 41 Free Things To Do in Berlin, 56 Free Things To Do In Amsterdam and 101 Free Things To Do In London! I also have a list of 40 Fantastic Things To Do In Zurich that you can add to your travel itinerary.
---
PIN "17 Free Things To Do In Zurich" for later:
---