Enveloped by the breathtaking Alpine mountains and set alongside the shore of a gorgeous lake, Zurich is one of the most beautiful places in Switzerland.
Whether you're traveling alone, with family or friends, this list of 40 things to do in Zurich has something for everyone. 
Disclaimer: This post may contain affiliate links at no extra cost to you.
The city embraces a vast historical culture and boasts beautiful streets that are adorned with medieval and ancient architectural structures.
Get lost in the cobblestone alleys of the Old Town that speak of the tales of its rich culture and heritage and learn more in the 50+ intricate museums.
There are also festivals and exciting events happening year-round. And of course, always end your days with a delicious cheese fondue and Swiss chocolate!
Though the city has over 400,000 residents, there's hardly any trash on the streets, and the remarkable city shines as good as new every single day!
The whole country is so special as you can see from these fun facts about Switzerland.
Recognized as a major financial hub of the country, it is one of the most expensive cities you'll ever visit – that's why I've also created a list of 17 Free Things To Do In Zurich that you can even download without signing up for any emails!
Zurich, indeed, has it all – beauty, entertainment, arts, nature, culture, and hospitality. So, let's not waste any more time and dive in!
Here is a complete list of all the fun activities and exciting adventures you can indulge in when traveling to Zurich!
I've divided the list into the following categories:
 

Popular Tourist Sites and Attractions

 

Stunning Parks and Gardens

 

Museums and Art Galleries

 

Shopping Adventures and Lavish Dining Experiences

 

Clubs and Bars
Popular Tourist Sites and Attractions in Zurich
1. Explore the Old Town – The Old Town is a place of history and culture, with its magnificent architectural structures and colorful buildings.
The streets are embellished with old cobblestones, and statues surround each corner of the town. Explore on your own or book a guided walking tour to learn more about Zurich's history.
2. Visit Fraumunster – Fraumunster is one of the oldest religious buildings in Old Town. It is artistic and beautiful and serves as a reminder of Zurich's rich history.
3. Hiking at Mt. Pilatus – The mighty Mt. Pilatus is 6,982 ft (2,128 m) above sea level and offers breathtaking views of the entire city. If you want to have a panoramic view of this spectacular city, this is an ideal spot!
Hop onto the Panorama Gondola and take the Dragon Ride cableway to move to the top of the mountain, in order to view the astonishing landscapes of this magnificent city or book an organized day trip!
4. Go up the Grossmunster church – Known to be one of the most popular tourist destinations, this Romanesque church is the most prominent landmark of Zurich's history.
Legend has it that this stunning church was built on the graves of Felix and Regula, the patrons of the city.
The beautifully crafted bronze doors and delicately designed glass windows are a delight to the senses – and the view from the top is spectacular!
5. Lake Zurich Promenade – Lake Zurich Promenade comprises of beautiful gardens and an extensive network of promenades, hence the name.
The lake, itself, is majestically picturesque, and is a must visit place for each and everyone coming to Zurich for the very first time.
6. Lake Zurich Boat Tours – The Lake Zurich Promenade offers Boat Tours as well, allowing you to have a unique view of the city in boats whilst experiencing nature in its purest form!
7. Explore the Colorful Streets at the Promenade – The waterfront of the Lake Promenade is enclosed by beautiful and colorful houses that serve as eye candy for everyone lucky enough to be in Zurich.
8. Soak In Some Culture at the Zurich Opera House – One of the most important cultural centers, the Opera House is Zurich's pride.
This place is always brimming with excitement and anticipation due to the huge number of concerts, ballets, and astounding operas that take place here!
Click here to have a better look at what's in store for you at the Zurich Opera House.
9. Explore Zurich West – Zurich West was once an industrial place consisting of only factories and warehouses, but has now transformed into the hippest neighborhood in Zurich.
The place has been revamped from head to toe, and what was once the most overlooked corner of the world is now one of the most exciting and frequently visited places.
Looking for more things to do in Zurich West? Click here to get more details!
10. Visit the Popular Underground Theatre – What's better than an amazing cinema experience and that, too, underground?
Well, Zurich West has a modern cinema built underground to give you a movie experience that you are never going to forget!
11. Discover Niederdorf – Explore the streets of this exciting neighborhood and visit trendy boutiques at Niederdorf. Don't forget to stop by the Conditorei Péclard, a contemporary café with ancient décor that exudes a vintage vibe!
12. Cruise the Limmat river – Sail through the beautiful city's main river in luxurious boats that pass under all the city's seven bridges – definitely one of the best things to do in Zurich.
13. Catch a Peculiar Train to Dolder Hotel – Hop onto a single coach train and travel to a recreational area and leisure hotel. Enjoy glorious panoramic views of the city throughout your journey!
14. Day Tour to Mount Titlis – Hop onto a revolving cable car and enjoy breathtaking views of the Swiss Alps while discovering unique landscapes and glaciers. You can go by yourself or book a tour from Zurich.
15. 2-Hour Sightseeing Bus Tour from Zurichberg – Go on an exciting bus tour from Zurichberg and explore the city's famous landmarks. Learn intriguing facts about Zurich's history and culture during this extraordinary trip.
16. Day Trip to Rigi – Take an enchanting tour via a cable car and conquer Rigi – the Queen of the Mountains!
Enjoy the scenic views as the cable car ascends into the Swiss Alps and go on a voyage across Lake Lucerne.
17. Enjoy the picturesque Rhine Falls in Schaffhausen – Take a luxurious and comfortable coach trip to the stunning Rhine Falls, Europe's largest waterfall.
You can also take a ferry ride to the middle of the waterfall in summer.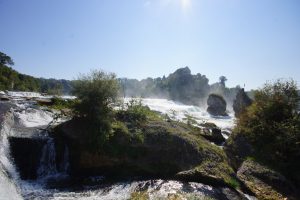 18. Take a Walking Tour to Learn About the Life of Einstein – Discover the places that Albert Einstein lived and worked in and uncover interesting facts about his life.
19. Beyer Jeweller and Watch Shop – Ever wondered what goes on behind the scenes of watch-making and how certain masterpieces are crafted?
Explore the history of watch-making and view various works of arts at the Beyer jeweler and watch shop.
20. Visit St. Peter – St. Peter is one of the oldest churches in Zurich that dates back to the 8th century.  The tower hosts one of the largest clocks in Europe.
21. Go on a Spooky Adventure Known as the Ghost Walk of Zurich – a famous paranormal entertainer takes you through the most haunted and bizarre attractions of the city.
Now, that's a unique thing to do in Zurich!
22. Visit Liebfrauen Church– This beautiful Catholic Church is popular for its striking stained glass windows and its unique standing clock tower.
Zurich is so close to Germany that you may as well check out some of the unique things to do in Munich as well – how about river surfing e.g.?
Stunning Nature in Zurich
23. Stroll through Lindenhof Park – A majestic piece of beauty, the Lindenhof, was once a Roman castle that has now been transformed into a serene and mesmerizing park.
24. Stroll through the Old Botanical Garden – Located at the heart of Zurich, this mesmerizing garden is home to some of the oldest generations of trees that give this place a medieval vibe!
25. Go river-pooling! All through the summer, the open-air pools the Swiss build into their rivers are one of the most fun things to do in Zurich.
Flow with the current, have an ice-cream and sunbathe in these natural outdoor pools. Here are some free river pools in Zurich.
Museums and Art Galleries in Zurich
26. Check out the Swiss National Museum – One of the most frequently visited museums, the Swiss National Museum exhibits breathtaking ancient and architectural displays. Click here to learn more about this exciting location!
27. Learn About the History of Football at the FIFA World Football Museum – A must-visit place for the diehard football fanatics, the FIFA World Football Museum features state-of-the-art multimedia exhibits and a huge variety of interactive games for kids.
Have a look at the world's most iconic trophy and plunge into the history of this popular game!
28. Plan a visit to the Museum of Art  – The perfect spot for art lovers! Dive into the intricacies of Swiss art and view the masterpieces created by top artists including Ferdinand Hodler and Henry Fuseli.
29. Visit the Rietberg Museum – Are you a fan of archaeology and ancient wonders? The Rietberg Museum features popular art and archaeological spectacles from around the world.
30. Explore Different Works of Art at Kunsthaus Zurich – This incredible art gallery houses more than 4,000 artsy wonders and is known to be an art lovers' paradise.
31. Catch a Glimpse of Unique Monuments at Pavillon Le Corbusier – Le Corbusier, one of the most popular architects of the 20th century, has exhibited all his masterpieces in one place, at the Pavillon Le Corbusier.
View the unique and extraordinary sculptures, projects and drawings of ancient times.
Shopping Adventures, Lavish Dining Experiences, and Other Things to Do in Zurich
32. Go on a Luxurious Shopping Spree at Bahnhofstrasse – this street is one of the world's most luxurious and lavish shopping destinations.
It houses some of the most renowned and popular brands including Gucci, Channel, and all the big names you can think of.
Click here to get more details on this mesmerizing location!
33. Shop and dine at Lake Zurich – Shop and eat your heart out at Zurich's top restaurants and luxurious boutiques!
Tantalize your taste buds at some of the finest cuisines at Lake Zurich and indulge in huge shopping sprees at pretty stores and outlets.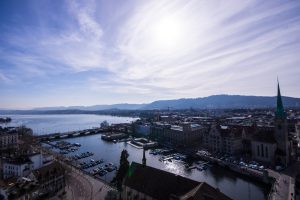 34. Shop your heart out at ShopVille – ShopVille is an underground shopping mall that offers a unique shopping experience to all its visitors.
It has some of the most exciting shops and outlets where you will find almost all sorts of clothing, ranging from casual to formal wear.
35. Go on an Exciting Gourmet Tour – Explore the city and its forest by going on an evening tour that ends with a delectable twist!
Experience the delight of a 4-course cheese fondue and purchase freshly made Swiss chocolates from the Lindt chocolate factory!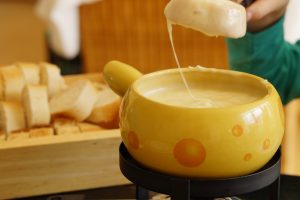 36. Haus Hiltl for Vegetarians – Are you a vegetarian looking for the perfect spot to fulfill your food cravings?
Head over to Haus Hiltl to choose from a huge variety of cuisines and meatless delights.
37. Delight Your Tastebuds at Café Sprüngli – Looking for the best desserts in Zurich?
Café Sprüngli offers a variety of exotic cakes, ice-creams, chocolates, and coffees to delight your taste buds!
Clubs and Bars in Zurich
38. Go Clubbing – Experience the electrifying magic of electronic music at the Hive Club, located near the Frau Gerolds Garten.
39. Looking for the perfect open-air drinking spot? The Rimini Bar, built alongside the Sihl River, is the perfect outdoor drinking bar for individuals searching for a cozy spot to unwind and chill with their loved ones.
40. Indulge in the Finest of Wines at Frau Gerolds Garten – Known to be one of the most popular drinking spots in Zurich, Frau Gerolds Garten offers top quality wines and margaritas to make your day even more special!
I hope that these 40 things to do in Zurich, Switzerland will help you make your trip to Zurich a memorable one! If you're trying to save some money, make sure to check out my list of free activities in Zurich as well.
---
Pin "40 Fantastic Things To Do In Zurich, Switzerland" for later: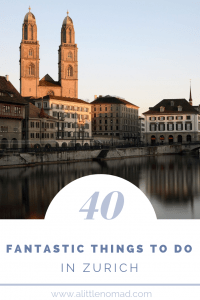 If you're traveling around Switzerland, these other articles of mine will be helpful for you as well:
If you're traveling to Germany, these guides might be helpful for you as well: