When you're traveling around Egypt, this city is probably the first stop on your trip and it's hard to figure out the best places to visit in Cairo.
The megacity is huge, loud and chaotic and can definitely be overwhelming for some people.
If that's the case for you, or you only have a short amount of time there, I've put together the top 5 places to visit in Cairo, so you don't get that FOMO feeling!
Egypt is such a mystical place with culture depth like no other place in the world. It was one of the first established civilizations, dating back to around 3,000 BCE.
Ancient Egyptians have contributed to some of the oldest discoveries of the world. So much history – it's hard to not feel goosebumps when you witness these amazing places.
Here is a short video summary of the 5 top attractions in Cairo, followed by more information regarding highlights, opening hours, etc. further down in the text.
[mv_video key="s1gpvrrxbtdog8n3of9j" title="Top 5 Places You Must See In Cairo" thumbnail="https://mediavine-res.cloudinary.com/video/upload/s1gpvrrxbtdog8n3of9j.jpg" volume="70″ doNotOptimizePlacement="false" doNotAutoplayNorOptimizePlacement="false" ratio="true" jsonLd="true" true="true"]
5 Best Places To Visit in Cairo:
1. Giza Pyramids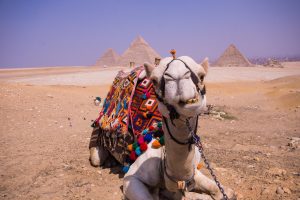 Number One, of course, are the Giza pyramids. They should be on everyone's bucket list.
I mean, there's a reason why they are one of the seven wonders of the world.
Still to this day, it's a mystery how the ancient Egyptians had the capability of moving massive stones to piece together what is known today as the pyramids.
Reaching as high as 146.7 meters (481 ft.) and each side being 230.4 meters (755.9 ft.) long, it is one of the biggest monuments in the world.
And all for the purpose of honoring the pharaohs and queens – by building them tombs, they created a sacred place for their afterlife.
The pyramids are definitely something you need to cross off your bucket list.
If you want to know more about the pyramids, sphinx etc. you can read my in-depth guide here.
In general, it's a fantastic time to visit the pyramids, they're almost empty these days because most people are afraid to travel to Egypt (which you absolutely shouldn't be!).
So you can get some great shots without other tourists in the picture, like this one I took:
I rarely take guided tours anywhere, but I would definitely recommend you to book one for the pyramids for two reasons.
One is that the pyramids are 10x more impressive if you hear about how they were built and all the crazy facts around it rather than just looking at them.
The other one, maybe even more important, is that you will have a lot of hassle if you come by yourself because everyone is going to try to sell you their services.
It's a pain in the a** to be completely honest! Getting a guide will make the pyramids a much more relaxed experience for you.
You can go inside a pyramid and ride a horse or camel as well, though I don't want to promote that as a lot of the animals are not in a good condition and not being treated well.
I have to admit that I did it myself because my guide convinced me, but I'm ashamed of it now and I really need to work on saying NO to something I don't really want to do. Lesson learned.
2. Khan El Khalili Market
A trip to Egypt wouldn't be complete without visiting Khan El Khalili – Cairo's souq, street market.
It's not only a perfect place to find your typical tourists trinkets but some of the items to be found here are just pure gold… literally!
There is such a variety of items here – from handmade accessories, antiques, perfume oils, gold artifacts, spices, silver, glass-stained lamps to beautiful handmade rugs.
They even have an antique furniture store! There is enough variety here that everyone would be able find something they love.
And I'm sure it will be something that'll be cherished forever.
Not only is this an impressive street market place, it also holds some fascinating ancient history.
The site was originally built around 970 AD, as a part of the Fatimid Great Eastern Palace.
Gawhar al-Siqilli, the general who conquered Egypt as the Fatimid Dynasty and founded the city of Cairo, played a big role in what is now known as Khan el Khalil.
Even in Ancient Egyptian history, the location was the center of major economic activity as well as many privileged sites of monumental religious buildings.
In 1511, Egypt's last powerful Mamluk sultan modified the layout to resemble what was in other cities, a qaysriayya, a central bazaar – a place of trade for most precious goods.
The monumental gates still stand famously today. Khan El Khalili is not only a great place for tourists to acquire exotic goods, it still serves as a souq for locals.
After you're done exploring all the unique variety of goods you can enjoy tea or coffee at one of the oldest and most famous cafés, Fishawi.
And, of course, some shisha, to complete your experience!
Tips for tourists:
Don't forget to bargain… there are no set prices. If you play it smart you can get more for your money.
Do keep in mind that this place is very crowded in some areas and there are a variety of people here.
I wouldn't flash around any money because, like in any other major city, there are people that might take the chance to pickpocket in the mince of chaos.
If you feel more comfortable having a local with you, you can book a guided tour through Cairo's Old Town that includes a visit to the market.
Location:
El-Gamaleya, Qism El-Gamaleya, Cairo Governorate
Directions:
3. The Nile River
It's not really a question why anyone should visit the Nile, it's certainly one of the most important places to visit in Cairo.
Open up your history book and you'll see that the Nile river is not just any ordinary river.
It is the largest river in the world, stretching all the way across Egypt down to 11 other African countries. Ancient Egypt's main source for water was the Nile, and it still is today.
Cairo's popular (and more expensive) sub-cities Zamalek and Maadi are situated along the Nile.
Both have a lot to offer with their fine hotels, cafés and restaurants.
With beautiful sitting and views of the Nile, it's the perfect place to enjoy the usually crazy and loud city – from a relaxing breakfast to a night out.
Looking for a dinner you won't forget? Check out Grand Nile Towers. They offer an exquisite restaurant, The Revolving Restaurant.
It's situated high above the Nile and like the name states, it revolves. How cool is that?
Another must-do is to take a traditional felucca boat ride out on the Nile.
You can see Cairo from a different perspective – enjoy the beautiful views and a hot cup of tea. Or do you prefer a dinner cruise?
4. Al-Azhar Park
There's the hustle and bustle of Cairo and then there's Al Azhar Park, the largest green area and one of the best places to visit in Cairo.
If you're familiar with the city then you know there isn't anything like it.
Al-Azhar is located on 74 acres in the heart of Islamic Cairo's historic district.
Its superior location with hillsides offers a 360 view to the Citadel and the City of the Dead.
The spectacular views make it a perfect place to sit back and relax with family and friends in its many cafes and restaurants.
Al Azhar park is the perfect location to celebrate special moments such as birthdays, engagements and weddings.
Its beautiful scenery and green areas make it a great place to capture moments you want to last forever.
Al Azhar Park was founded by Agha Khan IV back in 1984. He saw the hillsides with mounts of rubbish and decided to intervene. And so, he offered Cairo a much-needed gift of an oasis, known today as Al Azhar Park.
With a large sum of 30 million dollars, he created his vision and provided a space of enjoyment with traditional Islamic landscape and architecture of Fatmid influences.
Hours of Operation:
Open daily
9:00 AM-10:00 PM
Location:
Salah Salem St, El-Darb El-Ahmar, Cairo Governorate
Directions:
5. The Egyptian Museum
The Egyptian Museum of Antiquities is located in the center of Cairo, Tahrir Square.
It's known to be one of the oldest, largest and most famous museums in the world.
Ancient Egyptian history has so much depth.
It's exotic and unique, to say the least, and this museum definitely belongs on the list of places to visit in Cairo, especially for history buffs.
To witness first hand the remains from the past is an unforgettable experience.
It is a very large exhibit, with each artifact holding a special meaning in ancient history. You can also book your ticket ahead online if you wish.
The museum consists of two floors. The ground floor showcases items such as coffins and statues, while the second floor has delicate items such as papyrus papers, jewelry, gadgets and tools.
The ground floor is organized by the historical periods; The Old Kingdom, the Intermediate Period, the New Kingdom, the Late Period, and the Greco Roman Period, each period leading to the next.
The second floor also displays Tut Ankh Amun tomb and includes royal mummy rooms for an additional fee.
Hours of Operation:
Open daily
9:00 AM-7:00 PM
Location:
Midan al-Tahrir, Downtown Cairo
Directions:
---
Since I've only visited Cairo for a few days (I live in Dahab by the Red Sea) and am therefore not an expert, American expat Nadia helped with this article as she's lived in Cairo for three years.
---
Check out Jessika's One-Week Itinerary for discovering Ancient Egypt if you want to explore more than just Cairo, as well as my other articles about Egypt:
---
PIN "Top 5 Places To Visit In Cairo" for later: