Diving in Dahab has become popular because of its well-preserved reefs and abundant marine life.
This laid-back, small hippie town has a unique vibe, where Bedouins and expats live together and enjoy the beautiful nature.
Surrounded by the Red Sea and the Sinai desert, it's a truly magical place. Many people stay much longer than they were planning – like me. A month has turned into almost 3 years now for me 😉
Side Note: A lot of people raise the question of safety (thanks, media!), so let me clear your head here once and for all – EGYPT IS SAFE!
Especially Dahab! I'm a German girl living here by myself and have had no safety issues. I'm much safer here than in any big city in Europe.
You'll be surprised by the kindness and hospitality of the locals.
In this guide, I'll give you all the information you need to know so you're perfectly prepared for your Dahab diving trip.
I also have a list of 89 Things To Do In Dahab so you won't get bored on days you're not diving. There is so much to do, you could spend 3 months here and still discover new places and activities – like sandboarding e.g.
But you're here for scuba diving, so let's dive right in 😉
What is the best time to go Scuba Diving in Dahab?
Egypt has great climate all year long, it usually doesn't get below 20°C. That being said, the water does get pretty cold in winter so if you prefer warm water, you shouldn't come between December and March.
The perfect season in Dahab, in my opinion, is from September to November – the air temperature slowly cools down but the water is still nice and warm.
During summer it gets really hot, from June/July to August you will probably spend most of your time in your hotel or Airbnb hiding under the air-conditioning if you're not in the water.
During these months though, marine life becomes even more abundant and your chances of seeing bigger sea creatures like dolphins or sharks are much bigger.
April and May are usually good months in terms of air temperature, the water is around 22°C.
Dahab Diving Prices
How much scuba diving in Dahab costs depends a lot on the dive center (or freelancer) you choose. In general, Dahab is one of the cheapest places worldwide for scuba diving.
One of the reasons is that almost all dives can be done from the shore so there is no need for expensive boat rentals, the other one is that Egypt is a cheap country for traveling in general.
Below, I'm listing price ranges for PADI courses and guided dives. Now, there are dive centers that sell it much cheaper but I'm not going to include those as I do not want to support ruining the industry here.
Plus they have bad equipment and guides who don't take good care of you, so for your own safety – please don't risk your hard-earned vacation and possibly your life just to save a few dollars.
It's not worth it! There's plenty of Dahab Diving Centers that are fantastic and still reasonably priced.
The prices include equipment, tanks, a guide, and transportation to the dive sites.
PADI Open Water Course: ca. 285€
PADI Advanced Open Water: ca. 200€ – 225€
1 Intro Dive – ca. 35€
1 Guided Dive – ca. 30-35€
3 Guided Dives in 1 Day – ca. 75€
My personal recommendation (I DO NOT earn a commission for this, it's just based on my own experience) is to go with We Dive Dahab.
Eslam is a very patient, skilled and safety-oriented freelance instructor who managed to teach me scuba diving after two failed attempts in Thailand & Mexico because of equalization problems).
He uses the facility of a dive center that has very well maintained and professional equipment.
Word of warning: I advise female scuba divers not to go diving with "Dahab Days" dive center, located in Mashraba/Laguna. I went on a liveaboard with them and the manager continually harassed me sexually and refused to apologize for his behavior.
When I posted my reviews on their Facebook page and Google, he made up a lot of ugly lies about me which he later admitted under pressure of me reporting him to the police.
To show your support for your fellow female divers, I encourage everyone not to go with people who act like that.
If you want to make the most out of your Dahab diving experience, I recommend you do your Advanced Open Water here if you don't have it already.
Quite a few dive sites are only for advanced scuba divers, or at least the highlights of these dive sites (like the entrance to the Blue Hole). It takes only two days and there is no test, so easy peasy 🙂
If you haven't been scuba diving in a while, you will probably do a check dive at the Lighthouse, the "house reef" of Dahab, so to say.
I haven't included Lighthouse in this list because I had dozens of locals vote for their favorite dive sites to write this article objectively and it didn't make it to the top places.
It's an amazing dive site nevertheless, don't be disappointed if you go there just because it's not on this list.
You may also do a liveaboard safari in the Red Sea, a once-in-a-lifetime experience!
10 Best Dahab Dive Sites
I don't like to call one dive site the best in Dahab as preferences among divers are very different.
Some prefer to see unusual corals, some like a little action, some like to see bigger fish and some prefer to look for small creatures like nudibranchs.
I give a little explanation about each dive site so you can decide for yourself which ones you find most interesting.
Blue Hole
Let's start with the one that made Dahab diving famous – the Blue Hole. The Blue Hole dive site has no bottom, but the bottom of the Blue Hole Hole itself is at 110m.
You can go two different routes, the most popular (and coolest!) one is when you enter the Blue Hole from an open chimney called "The Bells".
The name derives from the sound of tanks touching the walls as it's very narrow, only one diver can go down at a time. You exit this chimney at 26m and dive along the wall of the Blue Hole.
Before you exit, you can swim to the middle of the Blue Hole and just be surrounded by the blue – almost like being in space 😉
Note: Since the "El Bells" entry goes all the way down to 26m, you need to be an Advanced PADI Open Water Diver (you can get your certification there!).
If you want to stick with your regular Open Water license, you can simply dive into the Blue Hole and go to the right to follow the beautiful wall full of hard and soft corals, it looks the same as when you enter from the chimney.
Canyon
The Canyon dive site is on the way to the Blue Hole. Most likely you're going to dive here as well when you go to the Blue Hole.
From 10-20m you'll find a beautiful garden of corals and then discover the canyon itself – a split between the reef going down to 54 meters where technical divers can exit the Canyon.
Otherwise, you can just dive through the cracks.
Islands
Don't confuse the name with actual islands, they're basically underwater islands. This dive can only be done during high tide and in good sea conditions, there should be barely any wind.
You'll see big pinnacles of hard corals and swim around the island. The bottom (17m) is full of hard and soft corals and you can meet schools of Barracudas, Snapperfish etc.
Eel Garden
Eel Garden is the only dive site on this list that is directly in Dahab "City". You'll find a lot of colorful different fishes and a huge garden full of eels who gave this dive site its name.
They literally "stand" up in the sandy bottom and are super fun to watch, like dancing snakes who disappear very quickly once you get too close.
Umm El Sid
Umm El Sid is considered to be the most beautiful reef south of Dahab. There are more than 5-6 dive sites. The diving here usually starts very shallow on a sandy slope with a beautiful wall of corals.
There are a lot of eels, swim past them and you'll find a coral table where you get lucky sometimes and see macro stuff like nudibranchs which makes the dive very interesting.
The Caves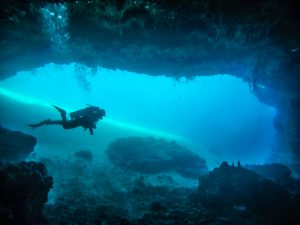 A little further south from Umm El Sid are two beautiful underwater caves, the only Dahab dive site that has an overhead environment in shallow water.
You enter the first smaller cave at 5m and go out at 12m, with beautiful corals around you. The bigger cave is entered at 17-18m, ascending up slowly inside the cave until you reach 5-6m for your safety stop.
The caves are wide-open so you can swim around and take some nice photos. Both caves can be visited in one dive. It's one of my personal highlights when it comes to Dahab Diving.
There is a cafe/restaurant there that makes incredibly good homemade local food, but only if you make a reservation before. Call the owner Youssef (+201010808361) in advance and choose between vegetarian, fish and chicken – you won't regret it, promise!
The following dive sites can only be reached by boat and each location takes a full day.
I recommend you go diving in Sharm El-Sheikh for at least a day or two, the marine life is even more abundant there thanks to different currents. I wrote another guide about scuba diving in Sharm El-Sheikh here.
Gabr El-Bint
Gabr El Bint is a dive site that you can only reach by boat or camel. I've just been by boat so far but isn't it super cool to go diving by camel? Totally unique experience! Anyway.
It's a drop-off dive site with beautiful walls and one of the most colorful around Dahab. You will see fan corals and so much life. Sometimes you can spot one of the rarest fish in Dahab – the Milkfish.
You can even see them in schools when you're lucky. I myself saw a huge feathertail stingray here!
Ras Mohammed
Ras Mohammed is a protected area on the southern tip of the Sinai peninsula and my favorite national park in South Sinai.
It's amazing to camp here for a night, but it will probably have to be a separate trip because diving from the shores there is extremely hard and usually you don't get permission.
Your guide will take you there on a boat from Sharm El-Sheikh.
The fact that the area is protected and has strong currents guarantees big school of fishes like jackfish. You'll see much bigger fishes here than in Dahab, giant morays e.g. and even sharks if you get lucky.
SS Thistlegorm
The Thistlegorm is a huge British shipwreck close to Sharm El-Sheikh. It sank during World War 2 and carried war equipment such as tanks, bikes, machine guns, and trucks. It's 126.5m long and 17.5m wide.
Laying down at 30m depth makes it great for recreational diving around the wreck for the first dive. The second dive will be inside the wreck. This wreck is on the bucket list of many scuba divers!
Tiran Island
Tiran Island is a protected area with strong currents just like Ras Mohammed, which makes this dive site very colorful and rich in marine life. There are lots of hidden islands and patches of reefs underwater.
You spend all day on the boat, exploring the different dive sites around Tiran Island – they're also great for snorkeling, so bring your non-diving friends along!
If you want to see dolphins, Tiran Island is probably your best bet (when the sea is calm) – they are relatively rare in South Sinai. The season for hammerhead sharks is in April & May as well as from July to September.
---
Pin "Dahab Diving – The Ultimate Scuba Guide" for later: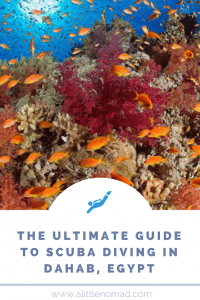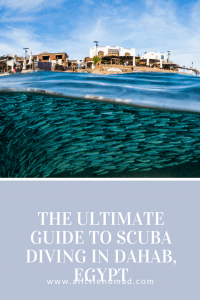 ---
If you're a scuba diver, these articles of mine might be interesting for you as well:
The professional underwater photos on this blog post were taken by Grant Thomas, an extremely talented underwater photographer.
Make sure you check out his Instagram & Facebook profiles for more award-winning underwater photos.
[mv_create key="3″ type="list" title="Recommended Products for Scuba Diving in the Red Sea" thumbnail="https://alittlenomad.com/wp-content/uploads/2019/08/1564663220689-1412546143.jpg" layout="circles"]
If you're traveling to Egypt, be sure you make the most of your trip by reading my other articles. I've been based here since 2016 and learned a lot that will help you 🙂