Are you looking to explore a different side of Milan, away from Piazza del Duomo, malls and churches?
Why not discover Milano street art and get to know the local culture from the creative side? Let me show you some of the best pieces, their GPS locations and stories behind them (as far as I know).
Milano Street Art didn't actually use to be a big thing until about ten years ago. Rome and Bologna were famous for it, Milan joined the list only recently.
Most of the graffiti and tags used to be in the outskirts of the city and found in the "not so nice" neighborhoods – where police and other people were pretty lenient and didn't really care about seeing them all over.
Nowadays, you can find street art everywhere in Milan. And such a wide variety, too!
You can find them anywhere from street walls to shop shutters, inside the walls of the metro station and under bridges and manholes!
There is a good balance of street art in Milan – some of them are commissioned and some are "wild" ones. From graffiti and tags to sculptures and beautiful murals – Milan has it all!
Surprisingly there are no Banksies around, but there are still so many great ones dotted all over that you'll have enough to discover however long you're in Milan.
Below are some of the best pieces, including their GPS location so you can easily look them up on Google Maps + as much background information as I was able to find.
Most popular neighborhoods to see Milano Street Art:
Street Art Evolution: Discover stencil art, wheatpasting, sculptures, sticker art and street installations
Via Conchetta: A mural that stretches over 300 metres reflecting environmental and mobility issues in the city
Leoncavallo: The highest number of street art creations, an art mecca for a wide range of creative souls
Basilica di San Lorenzo: one of the oldest churches in the city with a mural of portraits
Isola: A bustling neighborhood in the north of Milan surrounded by industrial buildings and railway tracks that has recently undergone an urban requalification
Niguarda: Located north of Milan's city centre (a bit further than Isola), has several big pieces of Street Art (see below)
Some of the best Milano Street Art Masters & Pieces:
Blu
Location: Island Napoleon Castle, Via Palestro
Blu is one of the world's best street artists and famous for criticising capitalism and society in his art.
This piece at an abandoned staple displays a scandal that happened a few years ago, when it was discovered that there are high amounts of cocaine in Milano's water.
On the railway wall in Piazza Monte Titano, there's another famous work by Blu which shows giant bicycles crushing tiny cars, a sarcastic overturn of what happens daily in the bike-unfriendly city of Milano.
The Fernet Branca Project: #CIMINIERABRANCA
Location: Viale Jenna 44, GPS
This piece of street art was done in the Fernet Branca distillery in Milan which has been around for 170 years.
They commissioned "Orticanoodles", two young Italian artists using this pseudonym. The mission was to restyle the long-forgotten chimney, now it's a very well-known place in Milan.
The project featured beautiful colors that symbolized the process of the making of the Fernet-Branca Liquor.
Colorful shapes of herbs and other symbols that tell the long history of the company intertwine, making their way up into the sky. At 50 meters high, this street art project stands to be the highest in Milan and one of the highest in Europe.
You may even see it at night as they implemented an LED lighting system. It definitely adds a gorgeous and modern sight to the Milan landscape.
Right across the street from the distillery, you will find the "Tango D'Amore" (Love Tango) by Christian Sonda.
Pao
Location: Viale Jenner, GPS
Pao is one of the most famous street artists in Milan. He became iconic for drawing penguins on street poles. All over Milan you will be able to see Pao's "Panettonis", as the Italians call them.
They are named after the famous "Panettoni" cake (read my post about traditional Milanese Food to learn more about "Panettoni" here), as his work was done on mounds of concrete blocks shaped like the cake.
You can see some of his psychedelic work in Porto Romana, an area, a couple of streets away from a wall where street art was commissioned to commemorate the 140th anniversary of The Orthopedic hospital.  
You will find many of his pieces and they're usually relatively easy to recognize thanks to his unique style.
Milano Street Art: Niguarda (Neighborhood)
Location: Niguarda, Milano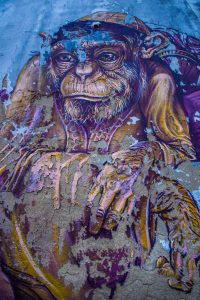 Volkswriterz – Niguarda Antifascista
On the other side of the road, there is another huge piece of street art, probably the most meaningful and historic amongst all of these.
It resembles the antifascistic movement of Milan and next to the statement "Niguarda Antifascita"  you can see two girls who were messengers with their bicycles when the Germans arrived.
One of them was shot 7 months pregnant, and the amazing community of Niguarda wanted to remember them. They keep repainting the wall to make sure this terrible part of history won't be repeated.
Unfortunately, I did not take a photo of this one, but you can see the Google image search results here.
This especially cool one we found at the Metro station Maciachini:
Milano Street Art: Isola (Neighborhood)
Isola is famous for its collaborative pieces, often commissioned by local businesses.
Top street artists work together to create creative masterpieces, like this one in Piazzale Archinto, an auto-repair shop.
More Milano Street Art in Isola:
Painted Boxes #energybox2015
Painted energy boxes have become popular in many major cities around the world and are also found in Milano's Street Art Scene.
Traffic light boxes are all over the city, used as blank canvases for artists to unleash their creativity.
While it started as illegal painting, artists are now able to apply for designing one of Milan's electricity boxes.
La Stazione di Porta Garibaldi
Location: Metro Station "Porta Garibaldi"
Milan's most famous metro station when it comes to street art: Porta Garibaldi. In 2011, a local art college got the permission to cover the walls of the underground station in paint.
Though these graffiti weren't produced by "professionals", they're still amazing to look at, especially because of the variety of creative styles.
Each piece was designed by different students and often times you won't notice they're still students. Some of them look a bit like Banksy's, as you can see:
---
I went on a sponsored street art & food tour with MilanoArte which enabled me to write this article.
I can highly recommend Giacomo and his team if you're looking for special tours of Milan, they really know their stuff!
You can check out their street art tours here: https://milanoarte.net/en/tour/colors-of-milan-discover-street-art-tours/
---
PIN "Street Art Milano" for later:
---
If you're traveling to Italy, these articles might be helpful for you as well:
If you're traveling around Europe, these articles might be helpful for you as well: